November 19 - December 22, 2022

@ One Minute Space, Athens
︎︎︎Curated by Ariana Kalliga
Artists: James Beckett, Jesse Chun, Alexis Fidetzis, Carolina Fusilier and Miko Revereza, Jenny Marketou, Ashkan Sepahvand, Anastasia Sosunova, and Maria Varela

Folk Fiction brings together nine artists from different geographies who share a fascination with demarcating and poetically deconstructing fundamental aspects of representation. Pulling away from traditional modes of meaning-making, they look at language as a system of oral resonances and historically imbued forms—by fictionalizing and abstracting, to create new meanings that allow multiple identities to be expressed.

The works on view draw on lores, oral traditions and anecdotal accounts transmitted across times. Considering how these forms of knowledge have been reused and co-opted to build imperial and colonial narratives, these artists explore a double consciousness—simultaneously rediscovering oral traditions and inheritances, and dissembling them in order to examine their implications in the present.

From mythical maps to invented rituals, Folk Fiction looks at the past as imaginatively open-ended. Building narratives from fragmented knowledge, several of the works on view evoke Saidiya Hartman's method of "critical fabulation", which combines fiction and critical historical research to transgress the official accounts and protocols of history. Folk Fiction sees how far fabulation can be pushed, and what capability it has for producing multifaceted representations of the past, present and future.


Maria Varela. Data Altar, 2020. Installation View. Video performance, 27 min 18 sec. Hand woven textile, 50 x 102 cm. Photo by Nikos Maliakos. Courtesy of One Minute Space, Athens.



Maria Varela's Data Altar (2020) is composed of a hand-woven textile and a video. The process behind the work evolved gradually by recording a pattern of time. Beginning in 2019, the artist kept a diary over the course of a year, marking each day as "good" or "bad". Varela then created a woven textile based on the pattern of this binary data. Adding another layer of complexity to the textile's weaving, Varela devised what she calls a "fictional ritual" to transform and purify the negative charge of the data she collected. The ritual is a synthesis of various non-Western cultural rituals and materials associated with magical properties, including water, wine, cotton, flower petals, stones, and threads. Collaborating closely with the choreographer Aggeliki Chatzi, the ritual unfolds as a sequence of carefully orchestrated hand movements performed with the precision and order of a scientific experiment. Echoing the way a loom works, the choreography of gestures is accompanied by a score composed by Vasilis Moschas, which acts as a mantra, pulling us into the absorbing pulse of a narrative that oscillates between good and bad, science and ritual, normativity and spirituality, revealing the challenge of untangling such oppositions – and the generative potential of dissolving them altogether.
Jenny Marketou. Ceremony for an Undead Oyster, 2022. Installation View. Caged, cemented oysters, sand and water. Dimensions Variable. Courtesy of One Minute Space, Athens.



Oysters are edible matter imbued with vitality. They contain embedded knowledge, informed by time, natural movements, and rhythmic fluidity. They are a precious coastal resource, harvested for centuries by indigenous cultures and honored in ceremonial offerings, cosmic rituals, and magical tales. Their unique ecological value extends beyond their living form, as dead oyster shells replenish and purify waterways.

Ceremony for an Undead Oyster (2022) creates a simulation of a caged oyster reef. The two iron cages are taken from oyster research stations which use them as hatcheries, to grow oysters ecosystems and other underwater species. The tiles cover the two openings of the cages, through which dead oyster shells are placed, before submerging them in water to create a natural habitat. Marketou uses oysters in her work as a force and an "actant" (Bruno Latour), to indicate the active powers of materials that intervene upon historical and ecological trajectories. What would happen if we looked at this oyster ecosystem as an "actant" upon our collective histories, containing its own narrative power and agency? The installation invites us to interact with it and to observe how ideas become matter, acting as a metaphor for life, transformation, more-than-human agency, multispecies narrations, ruination and freedom.

Ashkan Sepahvand. and speak (why?) with mute ash, 2022. fire, words, ash, various papers oil, musk, zinc, lighter, kindling, found materials, salt, steel brazier. Dimensions Variable. Photo of the artist's performance on November 19th, 2022. By Nikos Maliakos. Courtesy of One Minute Space, Athens.


A storyteller, a sodomite, arrives with painted face, seven-colors. The earth colors his skin: zinc, rust, soot, antimony, indigo, henna, gold. A bag slung on his back, he carries a load. He wanders, he flees, he takes his stories with him, he staggers under their weight. Ever since the burning of the Cities, he drifts the world, always a foreigner-native, a native-foreigner. A storyteller knows that life is smoking, he writes for no one, his writing is nothing. A sodomite's language belongs to the fire, and so the storyteller prepares himself to speak to mute ash. He sets down words, volatile, material, to mark the limits of a corrupting earth. He unpacks his bag, spreads out his belongings, he oils and perfumes the papers, he writes and reads. He offers words to the fire that eats no food and drinks no water. A sodomite's language is held in its hearing, a memory of the departed, a faith in their corruption as completion. A storyteller seeks to transform earth, he vows to become heathen, and so he leaves behind nothing, which is something.

- Ashkan Sepahvand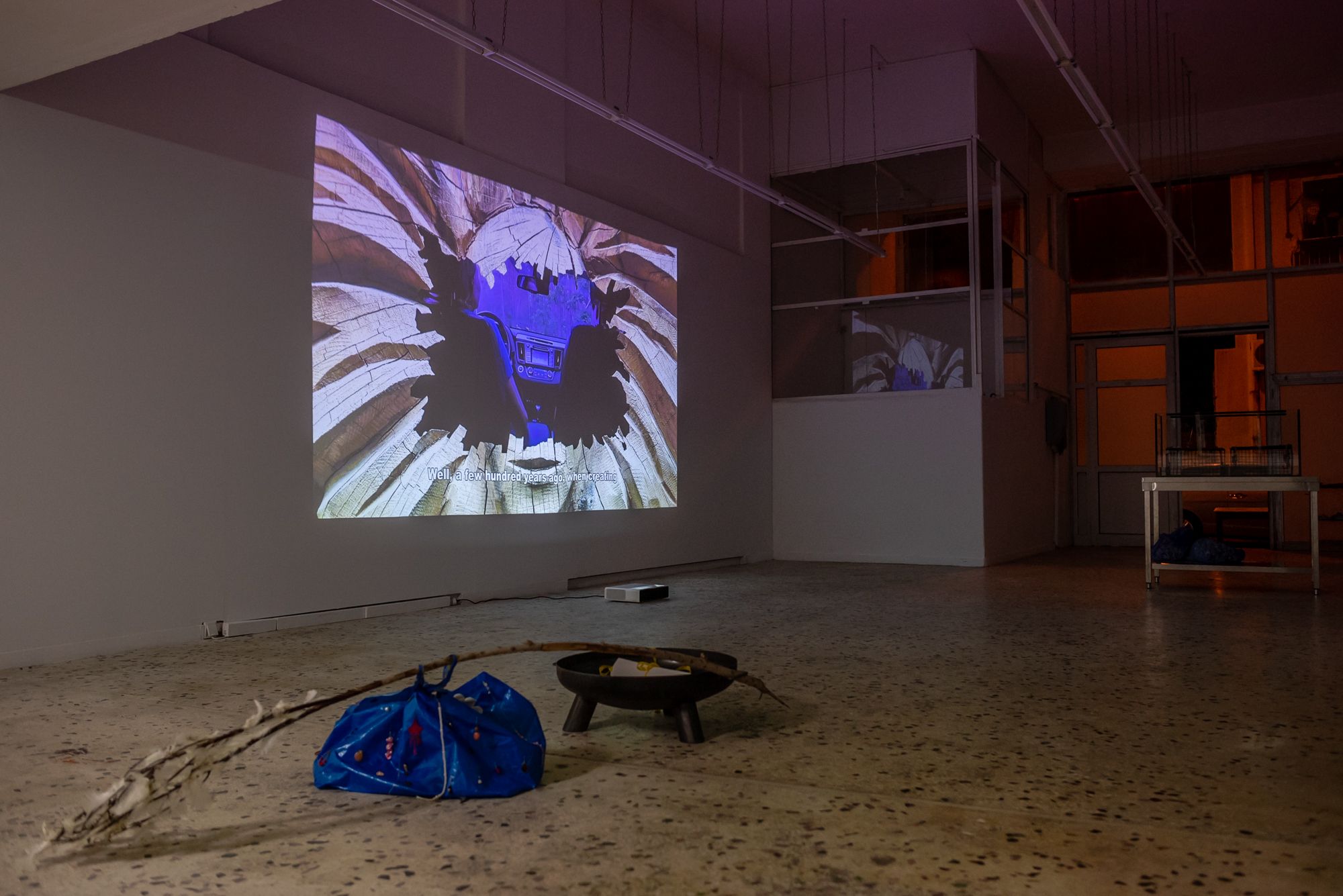 Anastasia Sosunova, AGENTS, 2020. Installation View. Video, color, sound. 14:57. Video commissioned for "Roots to Routes," curated by Juste Kostikovaite, Maija Rudovska and Merilin Talumaa, with the support of the Baltic Culture Fund. Photo by Nikos Maliakos. Courtesy of One Minute Space, Athens.


As noted by the New Museum (NY) in a previous screening of Agents (Screening Series, 2021), Sosunova blends historical research and creative fiction to explore tenuously constructed feelings of community and belonging. In Agents (2020), the artist starts a conversation with a wood artisan. As the conversation unfolds, the two protagonists investigate what lies behind the sudden "folk art revival" and resurgence of vernacular creativity witnessed in their region's forests and parks. As their conversation unfolds, it considers various cultural practices and codes of folkloric symbolism, exploring how these have been co-opted to build nationalist self-mythologies. Interspersed with personal reflections on the meaning of crafting vernacular objects in the present, Agents offers a nuanced reading on the function of folkloric symbolism across times, opening up other possibilities of co-existing and making, unbridled by the weight of some imagined past.

In memoriam Gintaras Černius
Folk Fiction opening at One Minute Space, Athens, on November 19th, 2022. Photo by Nikos Maliakos. Courtesy of One Minute Space, Athens.



Folk Fiction opening at One Minute Space, Athens, on November 19th, 2022. Photo by Nikos Maliakos. Courtesy of One Minute Space, Athens.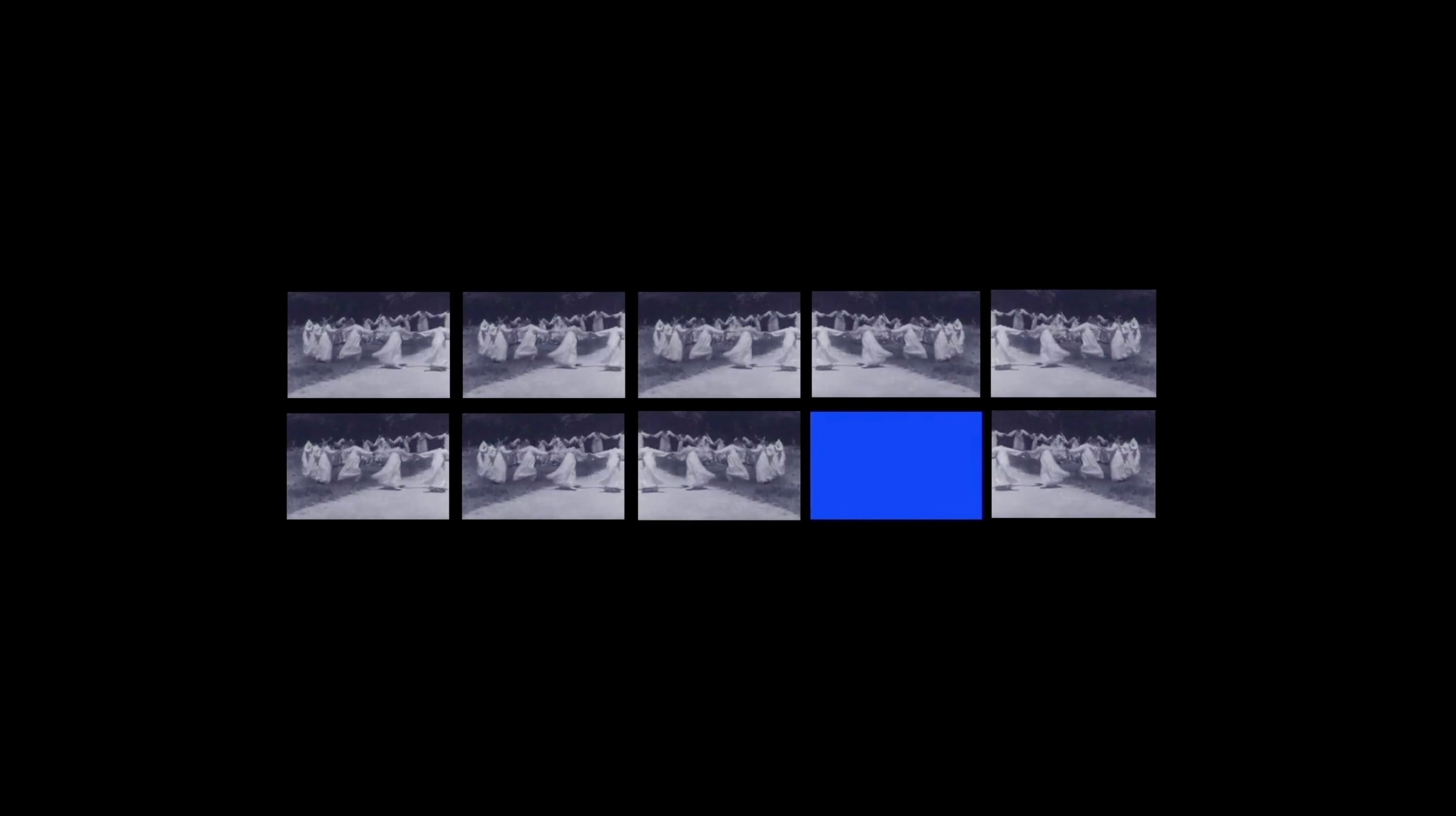 Jesse Chun, 술래 SULLAE, 2020, single-channel video still. Courtesy of the artist.


El Lado quieto (The Still Side), 2021. Mexico/Argentina/Philippines. Directed by Miko Revereza, Carolina Fusilier. US premiere. 70 min. Video Still. Courtesy of the artists.