Newell Harry, Untitled (Anagrams + Objects for R.U. & R.U. Installation view: Oceans. Imagining a Tidalectic Worldview at Museum of Modern Art Dubrovnik, Dubrovnik, Croatia (2018)


Oceans: Imagining a Tidalectic Worldview

July 4 - September 30, 2018

@ Museum of Modern Art Dubrovnik, Croatia
︎︎︎Curatorial assistant to Jelena Tamindžija

Participating Artists: Doug Aitken, Atif Akin, Darren Almond, Julian Charrière, Rineke Dijkstra, Elmgreen & Dragset, Tue Greenfort, Ariel Guzik, Newell Harry, Alexander Lee, Armin Linke, Eduardo Navarro, Lisa Rave, Sissel Tolaas, Janaina Tschäpe & David Gruber, Jana Winderen, and Susanne M. Winterling.

"Like the movement of the ocean she's walking on, coming from one continent/continuum, touching another, and then receding ('reading') from the island(s) into the perhaps creative chaos of the(ir) future..."
– Kamau Brathwaite

OCEANS. Imagining a Tidalectic Worldview is an exhibition which 'suggests a different way of engaging with the oceans and the world we inhabit'. It is presented in two parts, having opened on Wednesday 4th July at the Museum of Modern Art Dubrovnik (MOMAD), and on Friday 6th July at the Monastery of Our Lady of the Cave on the island of Lopud, and will remain open until Sunday 30th September. The symposium 'Return to the Sea' accompanied the opening at both venues and included curators and leaders of TBA21-Academy, artists whose works are included in the exhibition, members of MOMA, and key voices from the Adriatic, such as scientists and policymakers, who pay particular attention to the impact that human interference has on the oceanic ecosystems and local communities.

The term 'tidalectics' was first used by the Barbadian poet and historian Kamau Brathwaite and describes the movement of water, the fluctuating tides, the rhythmic sound of the waves and their ripples as they wash onto the shore. Tidalectics is an oceanic worldview, a different way of engaging with the oceans and the world we inhabit. Unbound by land-based modes of thinking and living, the exhibition is reflective of the rhythmic fluidity of water and the incessant swelling and receding of the tides.

The exhibition will highlight processes of cultural adaptation and material change, presenting a rich framework for understanding the coalescing polarities of contemporaneity and history, science and poetics, routes and roots, and ourselves—mostly land-dwelling humans—with the oceans and their many and diverse inhabitants.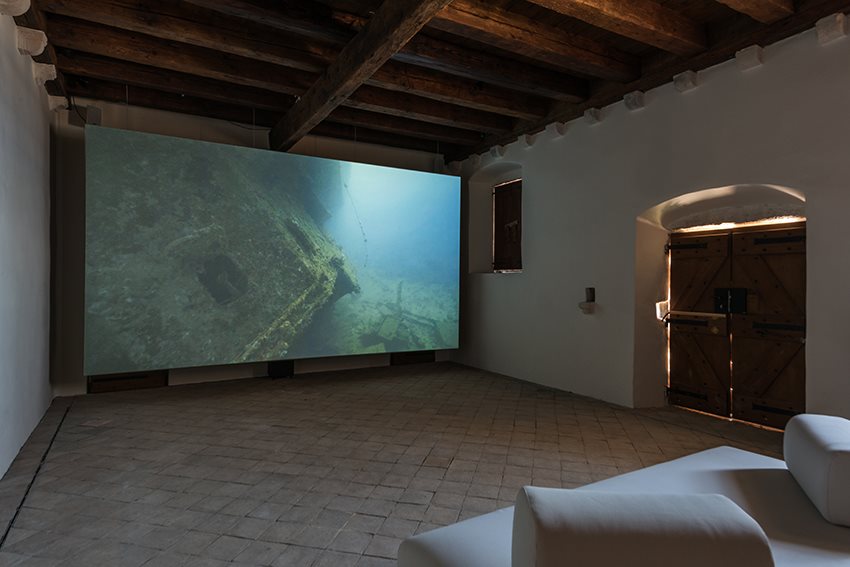 Installation View. Imagining a Tidalectic Worldview at Fortress and Franciscan Monastery, Lopud, Croatia (2018)



Symposium, Return to the Sea. Fortress and Franciscan Monastery, Lopud, Croatia, July 6 (2018)